5 Best Sunrooms in Calgary
Sunrooms not only provide homeowners with an extra sitting area with more natural light and nature's aesthetic but also increase the curb appeal & property value. Due to this, sunrooms are considered a significant and popular addition to residential buildings.
Even though you can install sunrooms using DIY kits and strategies, you'll soon realize how daunting and expensive the task is. You don't only need to get the required material and equipment but also a building permit. Thus, it's much better to leave all the hassle to the certified sunroof builders.
Below, we are going to enlist the best sunrooms Calgary builders who have vast experience in handling glass and turning your imagination into reality. So just dive into the article and find out which of these companies can help you out the most.
Best Sunrooms in Calgary 2023
1. Desert Sun Patios
Looking for someone with thorough experience in creating the oasis of your dream but at affordable rates? If so, you should give a chance to desert sun patios. This company has been serving Calgarians for twenty years, serving thousands of Albertans. All of their customers confirm their reliable and responsible services and conscientious installation.
The best part is that the company claims to offer the largest selection of sunroom options and patio covers. The highest in-demand sunroom layout they offer is a maintenance-free one in which you can enjoy fresh air and shelter simultaneously.
The fact which makes them stand apart from their competitors is that they use only tempered glass and at the same time, offer a complete guarantee regarding the price match. In other words, you won't be able to get what desert sun patios are offering at such an alluring rate.
Customer Reviews
" Thank you DSP for a job well done! Looking forward to spending many summer nights and days out in our covered deck done beautifully by DSP. Desert Sun Patios helped us all the way into the project, guiding us and coordinating other trades to see us through our vision. We were one happy and satisfied customer. " – Elmer & Debbie
" The guys that did the installation were friendly and did an amazing job of our patio roof and wall. The quality is first rate and the overall feel of our deck is so much better. We would highly recommend Desert Sun Patios for your patio cover. Great job! " – Clay & Shani
2. Suncoast Enclosures
Services
Screen room
Patio covers
Commercial
Louvered roofs
Retractable screens
Three season rooms
Website
https://suncoastenclosures.com/
Address
6757 – 50 Street
Edmonton, AB
T6B 3M6
Contact details
Phone: 1-877-449-5106
Email:

[email protected]

Operating hours
Monday-Friday: 9:00 am – 5:00 pm
Saturday & Sunday: Closed
Suncoast enclosures were working in Florida since 1991 when the company started its Business in Canada too. Before 1991, the concept of sunrooms was alien to the Calgarians since builders used to think that no glass screen could resist the weather extreme of Canada. However, the founder of this business somehow found a way to make these glass screens withstand Canadian weather.
Today, the company not only provides services regarding typical sunrooms but also retractable winds with which you can enjoy outsides, free of bugs and annoyingly heavy winds. Their louvered roofs are designed to give you full sunshine during the chilly season while providing serene shade when it's burning hot outside. You can choose between shade and light just with a push of a button.
With their versatile projects and innovative design models, this company is serving not only homeowners but also golf courses, restaurants, and cafes, helping them to expand their outside serving area.
Customer Reviews
" We had Devin come out and give us an estimate, he offered lots of great suggestions for our sunroom and the price was far more competitive than the other 2 businesses we got estimates from. The fellows came and put up the enclosure (8'x20′) on our existing deck in a day – they were hard workers and were very pleasant. A couple weeks later our windows arrived. Although they call it a 3 season sunroom our "Terrace" has been used year round, the jumbo deep freeze over Christmas was a life saver :). If anyone wants to make a little used area a unique addition to their home, I would strong suggest Suncoast Enclosures. Are already planning to have them come again and work on our other deck! A year or so later, Had the guy come out for repairs, not great. Didn't finish and never called back to reschedule. " – Marci Girling-McPeak
" Andrew Jensen of Suncoast Enclosures just completed our gorgeous sunroom. Andrew and his team were awesome to work with, and we were impressed with how quickly it all went together. A lot of talent in this crew and highly recommended!! " – Becky Foster
3. Select Sunrooms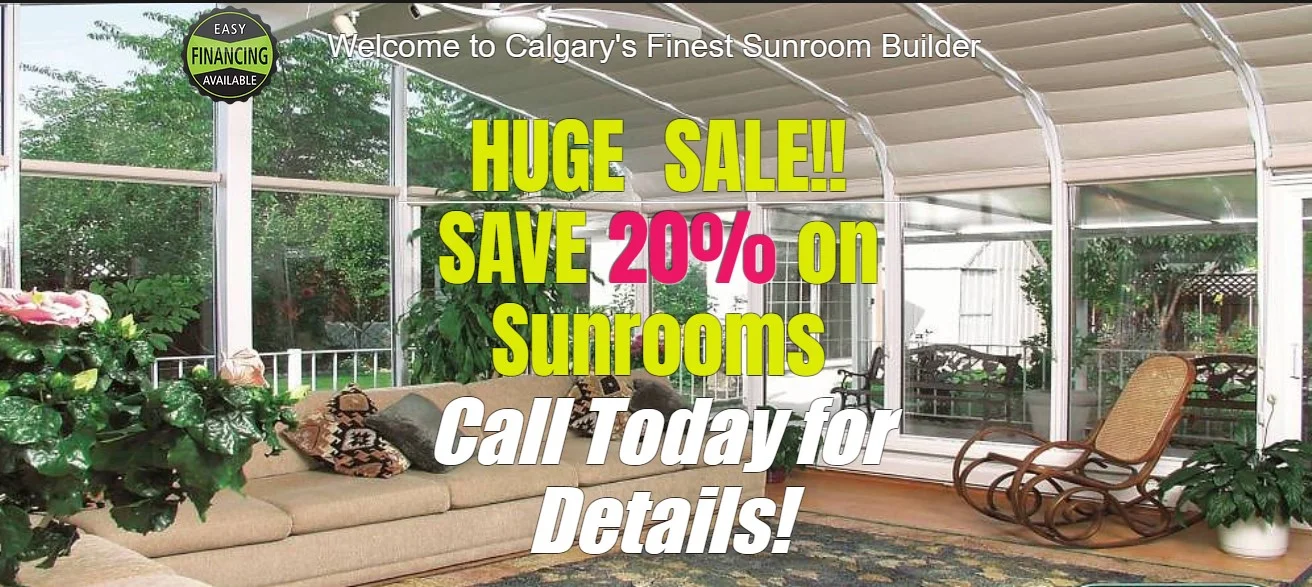 Services
Acrylic
Habitat screens
Home Additions
Insulated
Outdoor Kitchen
Patio Covers
Patio Door
Patio Enclosures
Polycarbonate
(more on their website)
Website
https://www.selectsunrooms.ca/
Address
240-70 Shawville Blvd SE Suite 1102,
Calgary, AB
T2Y2Z3, Canada
Contact details
Phone: (403) 262-2999
Email:

[email protected]

Operating hours
Tuesday-Friday: 9:00 am – 4:00 pm
Saturday & Sunday: Closed
Monday: 9:00 am – 4:00 pm
Select Sunrooms is known as one of the finest sunroom builders in Calgary that offer multiple services including sunrooms, patio covers, pool enclosures, and retractable roofs. Besides the designs they have in their catalog, you can also request the builder to customize a sunroom that reflects your imagination.
It doesn't matter how complicated a design seems, their professional builders can construct any structure and shape, using a wide spectrum of colors, to bring your dream of a dream oasis to life. They claim to take pride in competitive pricing, excellent workmanship, and their capability to deliver the most satisfying results.
And the best part is that the select sunrooms company promises to look after everything – from designing to creating drawings to acquiring permits. In addition to this, the company offers a comprehensive warranty on all the work done by them. Isn't enough to justify why Select sunrooms are on our list?
Customer Reviews
" I want to say how impressed both my husband and I have been with our new front porch enclosure/sunroom. It is now our favorite room. We love it!! We must also say that from the first time we met you, we have been most impressed with your personal and professional approach. You asked questions, listened to us, shared options both in your show room and provided further advice once you came to our house. Your installer was excellent, the product is excellent and we would not hesitate to recommend your company to anyone looking for a new sunroom or front Porch enclosure. " – L P
" We decided to have a Sunroom. What to do first…you google. We found Select Sunrooms, and visited the showroom on a Saturday Afternoon. The Showroom is fantastic with lots of great ideas. We were very well advised and we decided on our Sunroom. Everything went to our full satisfaction. We are very happy that we decided to go with Select Sunrooms and would recommend this company to anyone. Thank you Fred and the whole Select Sunrooms team. " – Matt Myer
4. Screen Experts
Services
Clearview screen installation and manufacturing
Power screen
Security screen
Website
http://www.screenexperts.ca/
Address
Calgary, Canada
Contact details
Phone: 5878051499
Email:

[email protected]

Operating hours
Tuesday, Wednesday, Monday: 8:00 am – 8:00 pm
Thursday: 8:00 am – 8:00 pm
Friday: 8:00 am – 4:00 pm
Saturday: 10:00 am – 3:00 pm
Sunday: Closed
As the name implies, this sunroom builder has expertise in manufacturing premium glass screens in Canada. They have a single mission; to provide the safest and best-engineered screen solution to the Calgarians. This manufacturer masters three groups; making Clearview retractable screens, power screens, and security screens.
To resolve your concerns, they offer the best quality control at each stage of installation and manufacturing. With their 20+ experience in the industry, they have collected enough skills to customize every project as per your specific requirements. Their power screens not only offer excellent protection against solar, wind, and insects but also are embedded with amazing features like self-cleaning.
Customer Reviews
" The team was great. From the start there was always immediate, detailed responses to enquires. The install and quality of product really enhanced the livability and look of my condo. Instead of always fighting traditional sliding screen doors, the floating roll away screen is by far a better product. No more jammed doors or sliding off rails. Great product, great service, thanks guys. " – DEVON KAMBEITZ
" We had gone out for three quotes and we are so glad we chose the Screen Experts! Darrell installed Motorized screens on our patio Which was a custom project matching the existing wood, paint, and cutting the rocks on our pillars to make the addition blend in as the house had only been built the year before last. He also provided great advice on going with a darker screen for privacy, also keeping it a lot cooler in the summer months. I compared wind ratings as well And Darrell came out on top, so if your looking a the top rated product with awesome workmanship- these guys are the best " – Elite Crypto
5. Four Seasons Sunrooms & Windows
Services
Sunrooms
Patio rooms
Life room
Louvered roof system
Addition solutions
3 season rooms
Pergolas
Decking
Patio covers
Windows & Doors
Website
https://www.fourseasonssunrooms.com/
Address
5065 13 Street Southeast
Unit 103
Calgary, AB T2G 5M8
Contact details
403-287-0008
Operating hours
24 hours online service
The last name on our list in four seasons sunrooms & windows – is a builder who believes that every new day comes with an opportunity to impress, serve, and amaze their valuable customers. For this purpose, the company aims to improve and innovate its products every moment passing.
The company has thousands of dealers and a wide premium range of products with which you can improve your life and home. Whether you are thinking about adding a sunroom to your house or deck or patio, or a new window, the company is available to help you all year round. Four Seasons has been in the business since 1975 and claims to set standards for its competitors.
Customer Reviews
" Our Four Seasons sunroom changed the look and the feel of our entire house. Now the favorite room of the house, our sunroom adds a vacation element, as it soothes and relaxes us by uniting us with our natural surroundings. The wide-open, exposed look and feel has truly integrated the inside and outside, giving us the opportunity to become one with nature's elements. " – DAVID YEHUDA
" Tom and I would like to thank you for the wonderful job done on our Four Seasons Sunroom. We are really enjoying the room. Our neighbors and friends can't believe how nice the addition adds to the look of our home. It will be so nice to stay in our room any time without the bugs and enjoy the surrounding nature sounds and sights. " – TOM & KATHY